Invisalign® Parramatta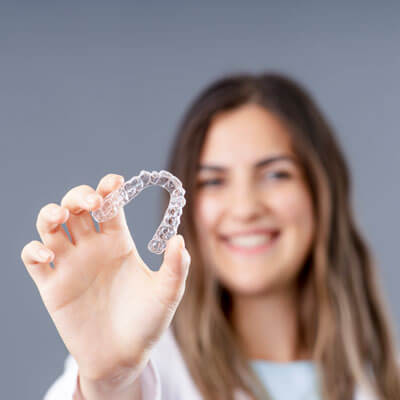 Want a straighter smile? Not interested in traditional braces? Clear aligner systems like Invisalign are a great alternative. These translucent, removable orthodontic appliances use a series of transparent trays to straighten your teeth.
Invisalign Advantages
Investing in Invisalign provides a wide variety of perks, including
Removable trays
Simplified home care
No dietary restrictions
Discreet
Comfortable to wear
Great for adults
Predictable and efficient
No metal appliances
Digital treatment planning
All Invisalign treatments begin with a digital scan and consultation. Your virtual images are incorporated into AI software that moves your teeth in a virtual treatment plan. You can see your proposed results before the treatment even starts.
If you decide Invisalign is right for you, we'll order your clear aligners. Each set is slightly different than the last, gradually nudging your teeth into the desired position. There are no wires or brackets to adjust.
Change your aligners out as directed to keep your progress on track. We'll ask you to stop in every other month to check on your progress and to send the next aligners home with you.
Since your Invisalign treatment is digitally mapped in advance, we can estimate approximately how long your orthodontic treatment requires. Most cases are completed between 6-24 months but it varies from person to person.
Invisalign needs to be worn for approximately 22 hours a day to be effective. You'll want to remove your aligners during meals and for brushing and flossing. Don't eat or drink anything (other than water) with your aligners in place. Clean them with a toothbrush at least twice a day.
Payment Options Available
With DentiCare you can enjoy flexible payment options and financing on any Invisalign case. Contact us today to reserve a consultation and find out if you qualify.
CONTACT US

Invisalign® in Parramatta NSW | (02) 9635 6888