Checkup and Clean Parramatta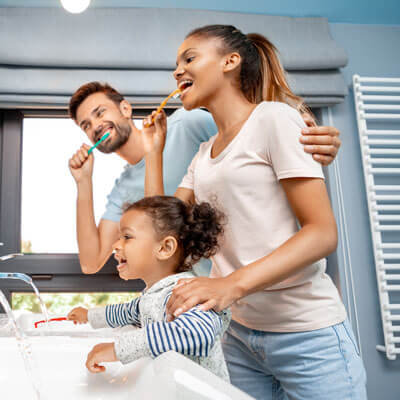 A clean smile is a healthy smile. With the help of routine professional scale and cleans, you can combat common issues like tooth decay and gingivitis.
To keep your teeth and gums healthy, we recommend booking a checkup and clean at least twice a year. During your visit, we'll screen for concerns like
Enamel wear or erosion
Aging restorations
Gum disease
Bone loss
Gum recession
TMJ disorder
Oral cancer
Orthodontic concerns
Our goal is to ultimately identify issues as early as possible.
What to Expect
We'll gently scale away the tartar buildup that has accumulated since your last checkup. From there we'll polish surface stains to leave your smile looking brighter in a matter of seconds. We end your visit with a professional fluoride treatment, to assist in remineralising weak enamel and combatting tooth decay.
Should you need any treatment, we will review our findings with you and discuss appropriate recommendations. You play a critical role in co-planning any necessary care, as we value your input.
Will I Need X-rays?
We use digital X-rays to screen for issues that cannot be detected by the naked eye. Such as bone loss, cavities between teeth and cysts inside the bone. Depending on your health history and dental concerns, X-rays are taken at periodic intervals based on what we're screening for.
Education Is Key
Understanding the best preventative techniques can help you significantly reduce your risk of oral diseases. Our team will work with you to create a personalised oral hygiene routine that targets areas of concern, hard-to-reach spaces and improves your tooth and gum health.
Schedule an Appointment
Take that first step towards a brighter, healthier smile. Contact us today to schedule.
CONTACT US

Checkup and Clean in Parramatta NSW | (02) 9635 6888